ANIMATED MOTION GRAPHICS EXPLAINERS CAN BE A GREAT WAY TO PROMOTE YOUR PROJECT…
These days, if you want to promote something to any audience, video is a must. If a video is available, 60% of visitors will opt to watch it before reading any text.  Our brains process imagery 60,000 times faster than text.  And people are 27 times more likely to click on an online video ad than a standard banner ad.  Video works.  
Motion graphics animated explainers are booming right now.  Motion graphics bring together simple animation with graphic design to produce engaging videos that connect with your audience.  Here's why an explainer video could be a great way to promote your project.
You can create almost anything
With motion graphics animation, you can create almost anything your imagination can come up with.  A client of ours wanted to encourage their staff to get involved in helping farmers during emergencies.  They needed to depict farms that had been devastated by fire and flood. With a live action video that would have been challenging.  But with an animated explainer, it was easy.  Watch the video here.
Creative planning
And, as well as a detailed script, all of your characters, settings, colours and style can be crafted in advance, via the storyboard.  This means you can work with the production company to get everything looking just how you want it before the editing and animation process even begins.  Here's a quick snapshot of a storyboard.
Make the complex simple 
With an animated explainer video, you can take a complex idea and by using graphics creatively, help your audience get it.   Say you wanted to promote a new system that featured Artificial Intelligence.  AI is relatively new to a lot of people so you'll probably want to clue them in on AI first.  Motion graphics allow you to use creative shapes, colours, characters, charts, and diagrams combined with scripted voice over to get your point across clearly and simply.
Create your own talent 
So, you look around the office for someone who can represent your brand or project in your video.  Slim pickings?  Don't despair. With explainer videos, you can create the on-screen talent you need to tell a great story in whatever style you need it.  Your characters can be any age, gender, size or colour and have any personality you want.  The options are limited only by your imagination.  Add great voice over and you're set.  That's got to be better than Kevin in accounts.
Cost 
Because you are not paying for a film crew, motion graphics explainers are usually cost less than a live action video.  The explainers we create can cost anything from 30-50 percent less than a live-action corporate video.
When live-action is better
Of course, there are times when a live-action corporate video is a better choice than an animated explainer.  Live action is probably going to suit you better if you have one or more good speakers that are well respected by your audience.  In that case, you don't want to miss the opportunity to get them in front of a camera.
Also, animation by its nature will lighten up your topic, which is one of its strengths.  But if you're covering a serious topic that can't really be made light of, then live is action is a better choice.
Magpie Creative are very experienced at creating motion graphic explainer videos.  See some of our work at www.magpiecreative.com.au.  If you'd like to find out how an explainer could work for your project, give us a call on 0421 757347 or email Joe via [email protected].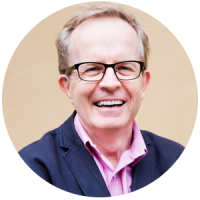 Joe Hughes
Founded Magpie Creative in 2014 after a long career as an IT Project Manager, including working on several large change programs. Magpie Creative specialises in creating engaging videos focussed on helping organisations implement change.